Discovery Room 12: Trains and Railroads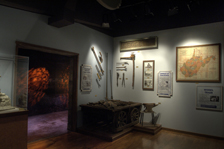 Check out the large hand tools in this exhibit. Can you imagine a time when building the railroad through the Mountain State was work that was done by hand? It was hard labor, and a big challenge for the railroad companies and their employees. West Virginia served as an important hub for several of the major railroads. Towns like Hinton, Fayetteville, Wheeling, and Huntington all have fascinating railroad histories.
No history of the railroad would be complete without John Henry. Was the steel-drivin' man a real man or a myth? We may never know, but his legendary race against the machine is a fascinating part of railroad history and West Virginia's history, as well.
Video courtesy of West Virginia Public Broadcasting; Videographer/Editor: Janet Kunicki; Narrator: Beth Vorhees