Discovery Room 2: Prehistoric People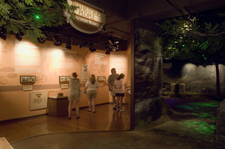 History is full of mystery. You'll realize that in this room full of prehistoric tools and weapons from early settlers in our state. What does the petroglyph from Salt Rock say? Is it a message or directions? Is this statue, called the Kanawha Madonna, from prehistoric times or the first white settlers? And what about the Braxton Stone? Is it real or a hoax? We may never know the answers to these questions, but it's fun to imagine how they relate to the earliest tribes and Indians who hunted and lived here.
Generally, West Virginia history focuses on the past 300 years. But people have lived here for about 12,000 years. By studying prehistoric tools and weapons, the mounds of the mound builders and the remains in archaeological digs, we can know some things about their cultures and lives.
Video courtesy of West Virginia Public Broadcasting; Videographer/Editor: Janet Kunicki; Narrator: Beth Vorhees