Museum Tours
The West Virginia State Museum offers a variety of free tours and activities. The tours range from self-guided to in-depth discovery tours. Contact Education Coordinator, Nathan Barner, via email or telephone (304) 558-0220 ext 185, to find the right tour program for you and your students.
The Show Path is an approximately 45-minute tour through West Virginia history from prehistory all the way up to the 21st century. Vistors are immersed in each time and place as history comes alive through first-person accounts and dynamic re-creations of pivotal events and places in the state's past. 26 Discovery Rooms featuring artifacts, artwork, stories, music, film clips are connected to the Show Path. Two Connections Rooms allow visitors to learn even more about West Virginia. Touchscreens within these rooms provide the opportunity to explore photographs, documents, journal articles, and additional information about the state's deep cultural roots and rich history.
Preview your visit with a short virtual tour of the the Museum's 26 Discovery Rooms (courtesy of WVPBS)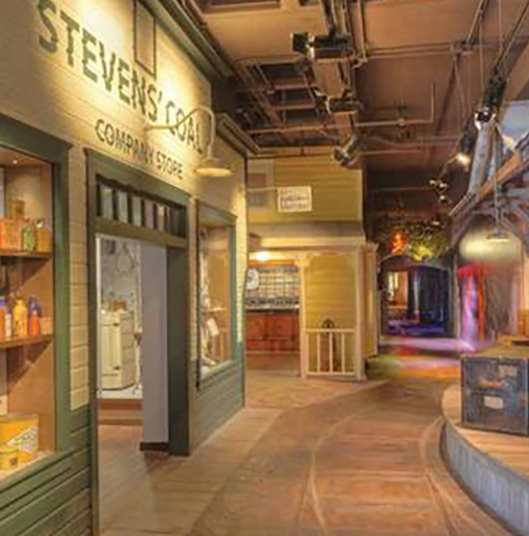 Capitol and Governor's Mansion Tours
Tours begin on the first floor Rotunda at specific hours. Any group of 10 or less is welcome to join a regularly scheduled tour without reservations. Groups of more than 10 are best served by making a reservation ahead of time. It is highly encouraged to make your reservations 48 hours ahead. Please call for reservations at 304-558-4839.
Monday through Friday
Tours start every half hour
9:00 am till 12:00pm
1:00 pm till 3:00 p.m.
*Tours of the Governor's Mansion are currently unavailable.
Activities and Workshops for Schools and Groups
Museum Education Student Activities
The West Virginia State Museum offers a variety of educational activities. Please see below for a description of our current activities. Contact the Education Coordinator, Nathan Barner, via email or telephone (304) 558-0220 ext. 185, to find the right activity type for you and your students.
Homeschoolers
The West Virginia State Museum offers programs that can add enrichment to your curriculum. Take a look at our current activities, grade specific programs and student workshops offered. Also feel free to utilize the Museum Education e-WV lesson plans for Elementary through Eighth Grade West Virginia studies.
Scouting Programs
The West Virginia State Museum Education Department has teamed up with the West Virginia Girl Scouts of Black Diamond to provide Girl Scouts the opportunity to learn their story while celebrating West Virginia's past, present and future. During our program, Girl Scouts are encouraged to dig into their history with activities that are immersive and educational, but most importantly, fun.
K-12 Activities Offered
We welcome groups of all ages and sizes to the museum! To make the most of your visit, we encourage you to review the museum guidelines with your students. We offer a variety of activities and programs designed to fit your specifc needs.
Little Bits: Includes three scavenger hunts designed to engage students to search, listen and count some of the many museum artifacts. Designed for K-1 students.

State Symbols Sticker Book: Introduce students to some of West Virginia's state symbols with this fun activity book that include a follow along sticker activity and coloring pages. Designed for K-1 students.

Discovery Guide: The ultimate museum investigation tool. Includes a Discovery Room quest, art search, artifact search, Show-Path search, summary questions, puzzles, vocabulary, facts and interactive follow-up questions to be answered using our website. Designed for 2nd-12th grades

County Challenge: Begin your county unit here. Students receive a workbook and search the Museum for artifacts and information from each county. Students can then continue with post-visit county research. Designed for 2nd-12th grades

Young Writers: This program includes big-picture questions and a journal with topics stimulating post-visit research, group discussions and literary work. Choose from primary or secondary grade questions or provide your own. Designed for 2nd-12th grades
We also offer the option to add a movie to your museum experience. We show a variety of movies in the Education Media Center with several topics to choose from. Topics include:
Museum Education Student Workshops
The current available workshops are:
Weaving: Students learn the art of weaving using a simple loom. After a short demonstration, students create a pot holder. Designed for 2nd-12th grades with a limit of 28 students per workshop

Painting: Step inside the world of art. Using a creative technique, students will create a watercolor painting that shows their love of West Virginia. Designed for 2nd-12th grades with a limit of 28 students per workshop

Pottery: This workshop introduces students to the art of pottery. Clay is used to create a unique hand made piece they can take home. Designed for 2nd-12th grades with a limit of 28 students per workshop

STEM Activity-Building Bridges: Science and history combine in this hands-on workshop. Students are introduced to the history of bridges in West Virginia. In teams they must use their engineering skills to build their own weight supporting bridge with very basic materials. Designed for 2nd-12th grades with a limit of 28 students per workshop
Parking
The Culture Center, which houses the West Virginia Archives and History Library, West Virginia State Museum, State Historic Preservation Office (SHPO), Arts Office, Library Commission Library and Tamarack Museum Gift Shop, is located at the State Capitol Complex in Charleston. We are located in Building 9, directly across from the West-Wing of the Capitol building's public entrance.
If traveling on the Interstate, take Exit 99 (Greenbrier Street/State Capitol Exit) on I-77/64, one mile east of the I-64 and I-77 junction in Charleston. The Culture Center is located along Greenbrier Street, just beyond the intersection of Greenbrier and Washington streets.
Visitors to the Culture Center have these parking options:
Metered visitor parking is available in the Greenbrier Street parking lot. Parking is $.25 per half-hour, with a maximum of four hours, from 8 a.m. to 5 p.m. Monday through Fridays. After 5 p.m. on weekdays and all day on weekends and state holidays, there is no charge for parking in these spaces.

Also in the Greenbrier Street lot, there are a limited number of metered handicapped spaces available in the bus loop adjacent to the Culture Center. Vehicles must have proper handicapped parking signage visible.

Beside Laidley Field, about two blocks from the Capitol Complex, there is an additional public parking area. The Capitol Shuttle is available on weekdays from 6:45 a.m. to 9 a.m. and from 3:15 p.m. to 5:15 p.m. The shuttle is free and may be used by employees and Capitol visitors. It runs every 15 to 20 minutes.

Visitors may be dropped off and picked up in the bus loop.
Museum Hours of Operation
Operating Hours:
Tuesday through Saturday
9:00 a.m. to 5:00 p.m.
***Closed Sundays and Mondays***
Closed all National Holidays except Memorial Day weekend
Admission is free
For more information call: (304) 558-0220