Back-of-House Display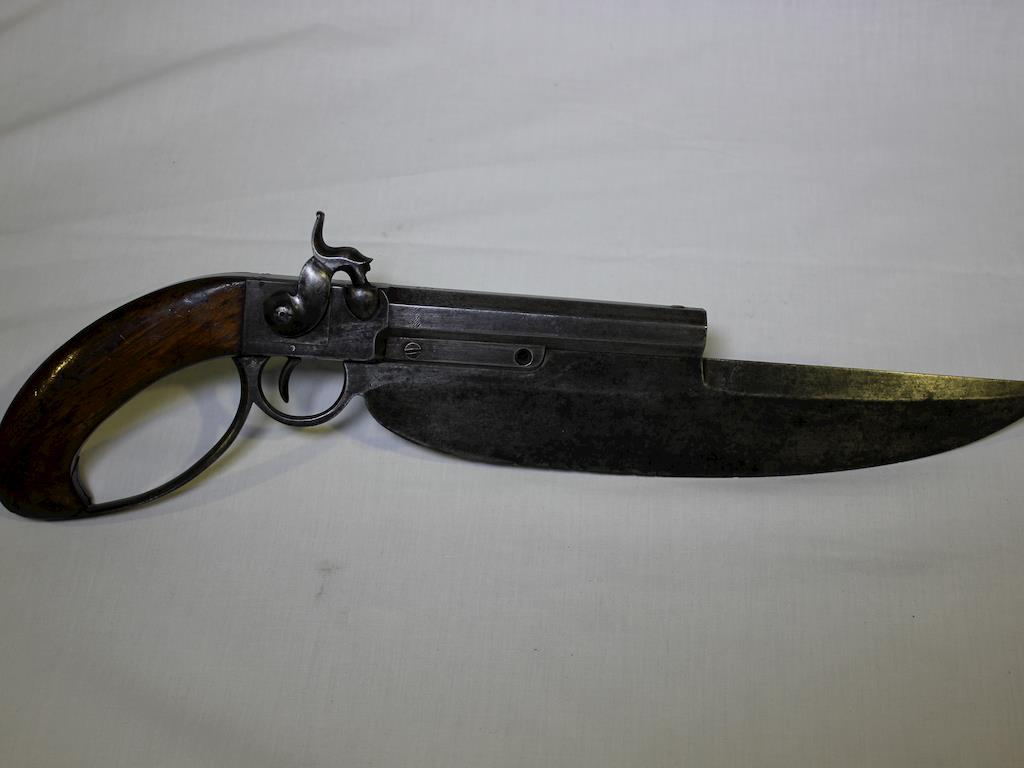 The "Back-of-House" display is a demonstration of how the collections team organizes artifacts in the actual "back-of-house" of the museum. This collection of artifacts is a small representation of period appropriate pieces that could be displayed, or in many cases other examples of the same items are displayed, in the museum show-path.
This display includes a wide variety of artifact types. They include both percussion and flintlock firearms, swords, a riverboat cannon, various household goods, and a variety of metal and woodworking tools. Of significance to note are the Mammoth tusk on the top shelf, and the Cutlass pistol on the back wall.
Why highlight the Cutlass pistol from this collection of artifacts? Well, this interesting firearm has an extensive history, not only does it carry significance for West Virginia, but it was also part of a world-famous Naval expedition. The United States commissioned Charles Wilkes for the U.S. Exploring Expedition which started in 1838 and returned home in 1842. The expedition had seven vessels, with only 3 completing the entirety of the journey. The cutlass pistol is significant in that it is one of only 150 commissioned by the U.S. Navy for this expedition. This served as the first time that the United States commissioned a percussion firearm for its military. The provenance of this pistol is yet unknown, but per the Navy, Wilkes and census records, there are potentially as many as 6 (West)ern Virginia residents amongst the crew of roughly 350. These 6 men were listed as Boatswains and Gunners all of whom would have been armed with such a weapon.
The mission of the expedition was to explore and survey the Pacific Ocean and its surrounding lands. The expedition consisted of approximately 350 men, with a mix of scientists and sailors. The expedition gathered many artifacts, of which many were used to form the basis of the Smithsonian Institution. The vessels explored more than 200 Pacific islands and mapped approximately 800 miles of Oregon. Additionally, the expedition mapped a significant portion of Antarctica, in fact two peaks are named for spotters of this expedition as well as a portion of the continent named for its leader, Wilkes. Wilkes' six-volume writing on the expedition was used as an inspiration for parts of Herman Melville's Moby Dick.
The Cutlass pistol's measurements are: Overall: 16 ¾"; cutlass blade measures: Length: 11 5/8"; and Height: 2"; .54 caliber percussion smoothbore. The pistol manufacture information is as follows: Pistol: C.B. Allen of Springfield Massachusetts in 1838 and Blade: N.P. Ames of Ames Sword Co., serial number 80.
Other Interesting Items
For more interesting information about the West Virginia State Museum, check out our Education Department's Teacher's Resources page.
The West Virginia State Museum Heritage newsletter highlights various activities, artifacts, culture and history that demonstrate West Virginia's deep cultural roots.